2022 waec Literature in English solutions
---
LITERATURE-OBJ
1-10:AADBDDCDBD
11-20:DBBDDBBDCC
21-30:CACBBABDCC
31-40:DBBDBBABAC
41-50:BDAACACBCA
Completed!
Literature objective questions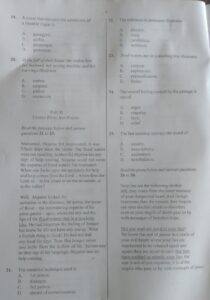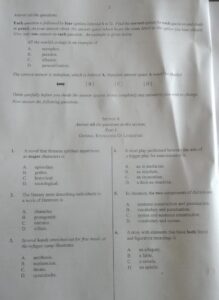 ---
ESSAY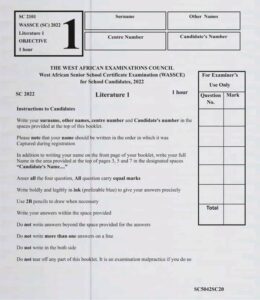 ---
(2)
A good compare in the role played by Adah and Francis can be seen in the marriage and individual roles the both played.
The marriage between Adah and Francis in the prose narrative is dangerously consummated based on what each partner starts to benefit. While Adah is burning with the desire to work hard and contribute financially to her immediate family and her husband, Francis is busy working for a sly way to parasitically benefit from Adah. According to Adah. she is not happy with Ma for marrying again and she sees it as a betrayal of Pa because she is now compelled to make a financial contribution to her family by saving her from the humiliating position, she found herself.
Before long, Adah has been dreaming of marrying early, a rich man who would allow Ma and Boy to come and stay with her, that would solve a lot of problems, but the ones that keep coming her way are quite elderly and she can't consent to stay with a husband when she will have to treat as a master and refer to as 'Sir'. even behind her back. This is because the people in Ibuza Community where Adah hails from see marriage as a master-servant union where the woman is subjected to serve the man, gives birth to countless children, and cares for them with little or no assistance from the so-called father rather than being or seen as a partner. Education for a girl-child is off the record because they feel that education makes a woman arrogant and irresponsible. This is the reason why Adah is not registered in any school at a tender age, even when Boy is already in school.
However, Adah decides to settle down with Francis, a young man who is still reading to be an accountant at a very tender age. Francis is poor and just can't afford to pay five hundred pounds bride price, Ma and other members of the family are asking for as an expensive bride who is college-trained, even though none of them had contributed to her education. And they refuse to attend Adah's wedding on account of this.
Basically, one cannot say precisely that the union between Adah and Francis is consummated without love as a base, but Francis's actions and inaction can serve as the testament that such love or marriage is parasitic rather than being symbiotic. It is clear that Adah's hard work, passion for the family, and her fat salary are the only fuel that oil their love and marriage, as Francis refuses to takes up any job to contribute his quota to the uplift of the family. Francis does nothing to promote the well-being of the family and has no mind of his own. He writes back home often to her parents over issues that can be resolved by both of them. Such a situation occurs when he discovers that Adah has obtained a family-planning method without his consent.
To Francis, a woman in a marriage is a second–class human, to sleep with any time, every day, father numerous children and abandon them and if she refuses, beat her to submission. They are meant to wash clothes and have the man's meals ready at any nighttime, and there is no need to have an intelligent conversation with her since she is senseless and has no idea what to offer. Her dream of becoming a writer is punctured by Francis who feels that his family won't be happy if his wife is permitted to write a book.
The only thing that she gets for being the breadwinner of her family is maltreatment, beating, assault, insult, abandonment and rejection. Francis refuses to care about his children, for he also rejects them at the last minutes in court and also wishes them bad when he says "I don't mind their being sent for adaption" Therefore, the union between Adah and Francis is loveless according to Adah because Francis refuses to see things in her point of view to care and respect the family. Adah vows to do everything to bring up her five children since Francis has refused to contribute to their maintenance before they finally part ways. "The children are mine, and that is enough. I shall never let them down as long as I live" Adah gives a note of assurance.
On that note, Adah is surrounded by a struggle for survival, dreamer and self motivator, she's also patient and hardworking, while Francis is also a very quite young man and visionless, dogmatic, violent and cannot serve as a role model to his children.
---
LITERATURE IN ENGLISH
SECTION B
(6)
Ras represent the white man perceptions and treatments of blacks using poet.
The poet use of rhetorical question beginning from In stanza 2, the poet laments further that if Africans "Cry roughly" of their torments which started from the colonial times which he refers to as, "… the start of things", he wonders who will watch their "large mouths" when they yell for help.
In stanza 3, the poet continues to lament that nobody will be emotional(represented by 'heart') enough to listen to their 'clamouring' and if by chance, they realize their predicament and grow angry, nobody will hear them as he terms any late realisation and anger as, 'pitiful'. In stanza 4 & 5, the poet supports the reoccurring belief that the dead serve as ancestors and protect the living from evil forces. In these stanzas,the poet wonders that when the living dies (our dead) and meet the ancestors (their dead) whose advice has fallen on deaf ears and whose 'wild appeals' have been ignored, they (the living, now dead) would remember their warnings and regret not ever listening. The poet continues that they (the ancestors) left their signs on earth, water and air for their "blind, deaf and unworthy sons" who see 'nothing' they have made. In stanza 6, the poet continues that since the Africans did not heed the advice of their ancestors, he wonders who will hear their 'sobbing hearts' when they 'weep gently'.
---
SECTION B
Literature in English Answers
(Q8)
The central theme of Wuthering Heights by Emily Brontë is the relationship between Cathy and Heathcliff. The problem of the bond between Cathy and Heathcliff and its significance remains the central mystery of the novel till the very end. In fact, the novel is a revengeful love story of Heathcliff, the protagonist.
Catherine is the daughter of Mr & Mrs. Earnshaw and Heathcliff is a pickup boy by Mr. Earnshaw from the slums of Liverpool city and is named Heathcliff Earnshaw by Mr. Earnshaw. Mr. Earnshaw's treatment towards Heathcliff is likely a father's treatment towards his own child. Environment of the moor and same dwelling place gives both Cathy and Heathcliff a greater chance to develop their romantic love-affair. In addition, Cathy's own brother, Hindley's hostile and cruel treatments towards Heathliff fines Cathy's love for Heathliff.
As children, Cathy and Heathcliff seem to represent the spirit of Freedom as they are rebelling against the tyrannical authority represented by Hindley. They are also rebelling against religious bigotry as represented by Joseph.
Their love exists on a higher or spiritual plane; they are soul mates, two people who have an affinity for each other which draws them together irresistibly. Heathcliff repeatedly calls Catherine his soul.
A life-force relationship is a principle that is not conditioned by anything but it. Catherine and Heathcliff's love is based on their shared perception that they are the same. Catherine declares, famously, "I am Heathcliff," while Heathcliff, upon Catherine's death, wails that he cannot live without his "soul," meaning Catherine.
Both Cathy and Heathcliff love each other profoundly. Yet we notice some ambiguity in both Cathy's speech and action.
Cathy and Heathcliff are creatures of the wild moorland where conventional social standards are meaningless. After meeting with Edgar, Cathy develops an interest towards him. She now seems to be equally interested in Edgar and Heathcliff. She has not certainly given up Heathcliff. In fact she defines her brother Hindley and manages to meet Heathcliff secretly. Indeed there remains a striking contrast between Edgar and Heathcliff far as behavior, looks and refinement is concerned. And it is obvious for a sweet girl of fifteen to be in dilemma about both of them because one is her earlier love and later another appears with more redefined and behavior.
Cathy decides to marry Edgar for his social status. She decides to marry Edgar for his social standards. Indeed he is handsome, young and cheerful. But she informs Nelly, the house keeper, of her profound attachment to Heathcliff, saying
"Nelly he (Heathcliff) is more myself than I am. Whatever our sols are made of, his ad mine are the same."
But Heathcliff who loves Cathy more than anything in his life overhears Cathy saying to Nelley:-
"It would degrade me to marry Heathcliff, now."'
He would not hear further as he leaves with his heart which is teared up into several pieces and blood is blowing from his hear inwardly. From this context of Cathy's speech we can have a clear notion that the love affair between Cathy and Heathliff is anti-social as Heathcliff is a pick up boy and then is no trait of his parents.
After overhearing such stuff, Heathcliff leaves the Wuthering Heights without saying anything to anybody and leaves no traces of him.
When Heathcliff has left, Cathy marries Edgar. After her marriages she understands her betrayal of her true self and as a result she is going to be sick and ill in accordance with the passing of days. After six months of their marriages, Heathcliff returns and seeing him live Cathy feels so delighted. Inspite of Edgars dismay, Cathy and Heathcliff sit looking at one another "absorbed in their mutual joy to suffer embarrassment." Yet there is no romantic erotic infatuation.
Though she is married to Edgar, she fwhichan ardent love and desire for Heathcliff which is anti- social. She believes that Linton is subordinate and that Heathcliff is part of her.

<<<<More Answers Loading…

Pls chat EXAMLORD on WhatsApp with

07062096095

>>>>



---
Note; If you are yet to pay for your personal password kindly send #500 to 07062096095 on WhatsApp only.